New Building Plan 建堂计划
2 Samuel 7:10 (NIV) And I will provide a place for my people Israel and will plant them so that they can have a home of their own and no longer be disturbed.
People asked: Why does our church need its own building? Answer by Pastor Chu: "God gave us an opportunity."
3CW started in 2004. We have been floating around using a public school, then using a basketball gym in New Life Church and now the youth worship room to worship.
In 2017, when we needed to move from the youth worship room back to the basket ball gym to worship, one of the board member initiated a building fund campaign.
We needed to raise $170,000 by the end of 2018, so that we can have $500,000 to start to look for a place. For a 100-people church, we were asking people to increase their offering by 50% within 18 months. But by God's grace, we did it in 12 months.
In Nov 14, 2018, we identified this place that could be suitable for our church. We shared this place with the church 4 days later. We told the church about this place but there was an offer already in front of us. If we really wanted it, we need to borrow money $250,000 from the church to make an offer. Within an hour, we raised more than $250,000.
By God's grace, the first offer was with-drawn. We bought this empty building in 2/14/2019.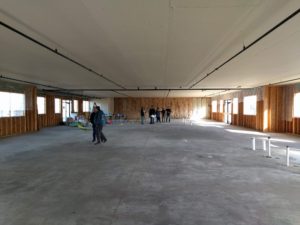 撒母耳记下七章10节:
我必为我民以色列选定一个地方,栽培他们,使他们住自己的地方,不再迁移。"
人们问:为什么我们的教堂需要自己的会所呢?
朱牧师回答说:"因为神给了我们这样的一个机会。"
木城华人基督教会(3CW)成立于2004年。我们从使用一个公立学校,然后到新生活教会篮球体育馆,直到现在在新生命教会青少年崇拜室崇拜。
2017年,当我们需要从青年敬拜室搬回篮球馆敬拜时,理事会的一位理事发起了建堂基金的活动。
我们需要在2018年底之前筹集17万美元,这样我们就可以有50万美元开始找房子了。对于一个100人的教堂,我们要求会众在18个月内增加50%的奉献。但在上帝的恩典下,我们在12个月内就做到了!
2018年11月14日,我们确定了这个地方可能适合我们的教堂。4天后,我们和教会分享了这个地方。我们把这个地方的情况告诉了会员,但那时已经有一个人先一步向卖家提出了买价。如果我们真的想要,我们需要从教堂借25万美元来出价。在一个小时内,我们筹集了超过25万美元。
感谢上帝的恩典,第一个买家退出了。我们在2019年2月14日买下了这栋空建筑。
Please Support Our Building Plan. We need your prayers and offering. We will continue to update this page for latest information.
请支持我们的建堂计划。我们需要你们的代祷和奉献。我们会继续更新此页最新的消息。
Give Now 我要奉献
*Your donation will be made to PayPal Giving Fund, a 501(c)(3) charity. There is no processing fees or commission if you donate with PayPal Charity. PayPal will transfer the fund to 3CW once every month.
* PayPal Giving Fund will email the Donation Receipt to you immediately after you donate.
*您的捐款将捐给PayPal Giving Fund – 501(c)(3)的慈善机构。如果你通过贝宝慈善机构捐款,则不收取手续费或佣金。PayPal每月定时将资金转至3CW。
* PayPal 慈善基金将会直接把捐款收据送到你的电子邮箱。
You can also mail the check or bill pay to 你可将支票寄往:
Chinese Christian Church of Woodbury
1083 Weir Drive Unit 500
Woodbury, MN 55125
* 3CW will email or mail the Donation Receipt to you at the end of the year, for tax-deduction purposes. Please include your Name, address or email address so we can send the receipt to you.
* 木城教会将在年底把捐款收据以电子邮件发给你,或邮寄到您的地址。请附上您的名字,电子邮箱或邮寄地址。